I used the recipe for Traditional Christmas Cake as my wedding cake [http://www.ourspringwedding.blogspot.com]! I had to cook three large round fruit cakes to produce my wedding cake, which was a three level high column cake. I actually ended up making six cakes - three that were the right size, and three smaller ones with all the cake mix I had left over.
I aged the cakes for six to eight weeks, and found they were still quite moist regardless. I consultated a lot of cake experts, and despite the cake decorating instructions saying otherwise, I did a few things to the cake which in the end caused more problems than improvements. Namely, I sandwiched the cakes together with marzipan which eventually liquified thanks to the weight and moist of the fruit cake. I also stuck wooden skewers through the cakes to provide them with more stability. The skewers ended up poking through the fondant, which luckily was covered by the flowers all over the top.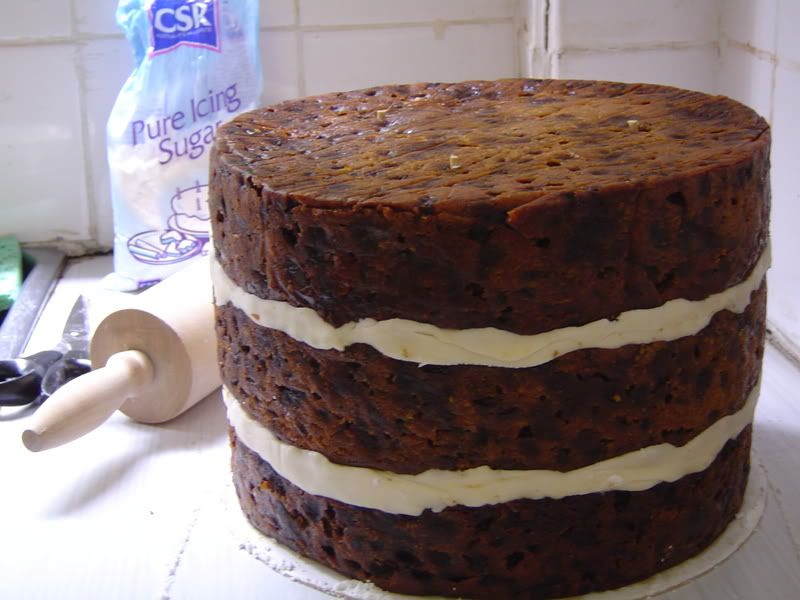 I wanted to use crispy white egg white icing on the exterior of the cake, which was supposed to only be good for two days. So I assembled the cake two days before my wedding, covered it in fondant, which was to provide the base, then I proceeded to cover the fondant with crispy white icing. When I did the practice cake I forgot the vegetable oil, so this time I made sure to put it in, and I was deeply sorry for that. It made the icing off white and also stopped it from drying. It was 38 degrees celcius that day, and I stood and watched the stinking icing run down the sides of the cake and gather in a big lump at the bottom on the cake board.
After complaining to my mother, I decided to take a big chance - I grabbed my spatchula and scraped the failed layer of icing off the cake. Then I put the monstrosity away out of sight.
The next day, my mother arrived and we discussed the situation at length. We mixed up another batch of the crispy white icing, this time leaving the oil out. The result was a pure gleaming white icing, as thick as plaster! We used the first batch on the top of a big slab of sponge, which was to be served as dessert. Once Mum saw how the icing behaved, we mixed up a second batch and got the wedding cake out to start all over again.
I began scraping columns of the icing up the side of the cake while Mum followed behind wipe up drips and tidying up the bottom edge. Within five minutes the job was done and the result was fantastic! I raced to get the silk flowers and quickly arranged them on the top of the cake to produce what I think is one of the most stunning wedding cakes I've ever seen. Even since I made it myself!