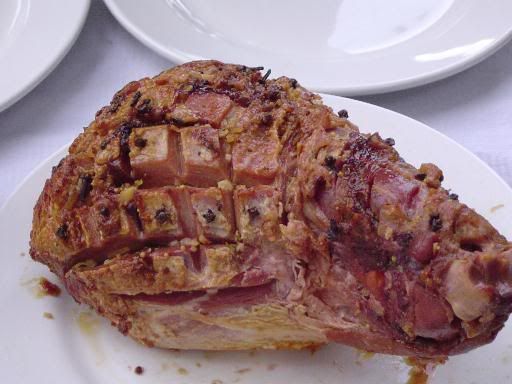 A few years back when I was still single I decided Christmases were better spent with friends. My inaugural Christmas trip away from family was to Cairns to visit an old school friend Peisha. She was actually my first flatmate too, and was very instrumental in teaching me how to be a high stepping Eastern Suburbanite.
I had lost track of Peisha years previously. She had gone off to live in Italy, I'd had a stint in Hong Kong, and it wasn't until 2002 when I was organising my high school reunion that I finally located her whereabouts. She'd been in Cairns for several years, and while she couldn't make it to the reunion, we did catch up for lunch and then dinner when she was in transit to and from Italy. At dinner I quite unceremoniously invited myself to Christmas at Peisha's. It was really rude, when I think about it.
Luckily for me, Peisha was a very welcoming host. She owned a fantastic big old Queenslander which was a complete two bedroom house upstairs and a whole second three bedroom house downstairs. I'd never been to Cairns before, so when I stepped off the plane and out of the airport, I was shocked to discover the heat was intensely overwhelming and the humidity was as thick as a blanket. I tied my long hair up immediately and never wore it down again for the whole visit.
At Peisha's she offered me the choice of two rooms – a nicely redecorated one upstairs with a fan, or the student room downstairs with air conditioning. I took the one with the air conditioning and was every so pleased later – whenever the heat got too much, I'd retreat to my room and lie spreadeagle on the bed while I recouperated.
It was two days until Christmas so we set about planning a festive feast and headed off to the supermarket to collect all the ingredients. I decided to do my traditional apricot and pine nut stuffed turkey , and Peisha had already bought a leg of ham. Her mum had come down from Ravenshoe and her plan was to glaze the ham with a pineapple glaze that was a favourite with her family (a long line of fabulous cooks). I got up early one Christmas eve and fired up the oven to roast the turkey. The problem was the day was already stinking hot, and turning the oven on just made it worse! Peisha dragged the pedestal fan into the kitchen and pointed it at me, but I continued to perspire until I thought I was going to melt into the kitchen floor.
By the end of the day I had sweated so much on my top lip, little sweat pimples had formed. I popped them all but continued to perspire profusely, which then made the open pores sting like all get out. The turkey had to be roasted for three hours, and man did it smell good but the heat generated by the oven was oppressive. No sooner had we taken the turkey out of the oven, Peisha's ham had to go in. And it was a beauty! Peisha and her mum had decorated it with cloves, and of course it glistened with the delicious pineapple glaze.
That Christmas in Cairns was quite literally the hottest I've ever experienced. It even beat the Penrith heat! But it was a brilliant visit – wild mangoes, cane toads, sea plane rides, snorkelling on the reef, fresh water crocs and indigenous dancing were all memorable features. But the greatest thing about that holiday was hanging out with Peisha. In the years when she was missing, I always looked for her – on the streets of Sydney, in buses, on trains… when ever I caught a glimpse of a Eurasian girl with long dark hair, I checked to see if it was her. So it was brilliant to find Peisha again.
Ingredients
1 leg of ham
1 jar pineapple jam
1/2 cup dry sherry
1 inch piece of fresh ginger, grated
200g glaze cherries
Handful of whole cloves
1. Pre heat the oven to 180 degrees celcius
2. Peel the skin off the leg of ham to expose the thick layer of fat underneath and place in a baking tray lined with baking paper. Score the fat in a criss-cross pattern.
3. Place the pineapple jam, sherry and ginger in a jug and mix. If the glaze seems a little thick, add some water a tablespoon at a time to thin it out. You want it to be pouring consistency.
4. Position half a glace cherry in the middle of each diamond scored into the ham's fat. Fix it in place with a whole clove.
5. Once the ham is covered with cherries, brush the pineapple glaze on with a pastry brush, ensuring the entire fat area is fully coated.
6. Place the ham in the oven and cook for approximately one hour. Remember – ham is a cured meat, so you're not actually cooking it here – you're heating it through and infusing it with the tastes and aromas from the glaze and decorations.
7. Remove the ham from the oven and allow to stand. You can prepare the ham the day before it's required if you like, and reheat it once it's been sliced.